Okinawa World (Okinawa World) is a touristy theme park about  Okinawan  culture. The park's main attractions are a massive natural cave, a craft village and a snake museum.With a total length of five kilometers,  Gyokusendo Cave  is the longest of the caves in the south of  Okinawa Island  and the second longest cave in the entire country. 850 meters of the cave are open to the public and feature spectacular stalactites and stalagmites. The inside of the cave is well maintained and the walking paths are comfortable and well lit.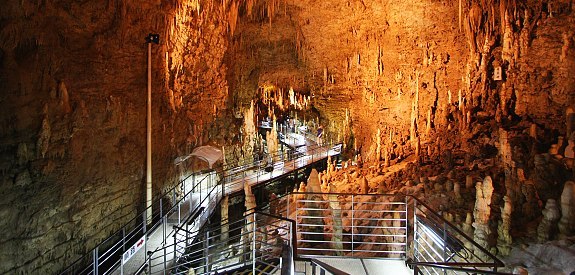 The Gyokusendo Cave
The  Kingdom Village  is a beautiful replica of a traditional Ryukyu village with workshops introducing the various traditional Okinawan crafts, such as weaving, dyeing, paper making, pottery, sugar cone processing, the making of music instruments and the more recently introduced glass blowing. Hands-on experiences are offered at many of the workshops.
The  Habu Park , named after the infamous, poisonous, local Habu snake, consists of a small, run down zoological garden with some snacks on display and a snake show. Throughout the park, visitors have the opportunity to purchase local souvenir shops. Of course, there is also a restaurant specialized in  Okinawa cuisine .
| | |
| --- | --- |
| A shop in the Kingdom Village | A habu snake in the Habu Park |